Recipes
June Recipe - Summer Tortellini Salad
June 01, 2020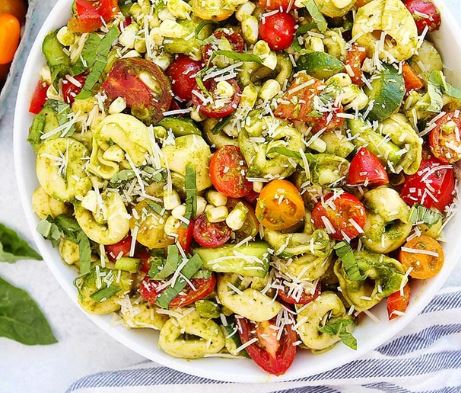 Summer is officially here! This month's easy salad features all your favorite summer vegetables. After making your summer salad, pack up at picnic and enjoy it in the sun at The Pointe at Valley Ranch Town Center's outdoor dining area which includes grills and firepits, or step out to the 10-acre private lake! To learn more about our luxury apartment community contact our team, or check out our video tours.
Prep Time: 15 minutes
Cook Time: 20 minutes
Servings: 4 people
Ingredients
For the chicken:
• 1 lb boneless skinless chicken thighs cut into bite size pieces
• 1 large egg
• 3 tablespoons cornstarch
• 1/2 teaspoon salt
• 1/4 teaspoon black pepper
• 2 tablespoons olive oil
For the sauce:
• 1/2 cup low-sodium soy sauce
• 2 tablespoons rice or apple cider vinegar
• 3/4 teaspoon sesame oil
• 1 tablespoon cornstarch
• 3 tablespoons packed brown sugar
• 1 teaspoon minced garlic
• 1/4 teaspoon ground ginger
• 2 teaspoons sesame seeds
• 1/2 cup of water or chìcken stock
To serve:
• rice
• steamed vegetables like broccoli, snap peas, carrots, or baby corn
Instructions
In a small bowl, whisk together all ingredients for the sauce, and set aside.
Cook rice and steam vegetables.
In a small bowl, whisk egg with cornstarch, salt and pepper. Add chicken pieces to the batter and stir well.
In a large skillet, heat up 1 tablespoons of olive oil. Place chicken, piece by piece, in pan and cook on all sides until the batter is golden brown.
Once the chicken is done, add in the sauce mixture and simmer on medium low heat until the sauce thickens.
Cook the tortellini according to package instructions. Rinse with cold water and drain well.
Place the cooked tortellini in a big bowl. Add the tomatoes, bell pepper, corn, cucumber, and green onions. Drizzle with basil vinaigrette and stir until the ingredients are well coated. Season with salt and pepper, to taste.
Finish the salad with Parmesan cheese and fresh basil. Serve cold or at room temperature.
Enjoy!