Recipes
Colorful Summer Pasta Medley
August 01, 2020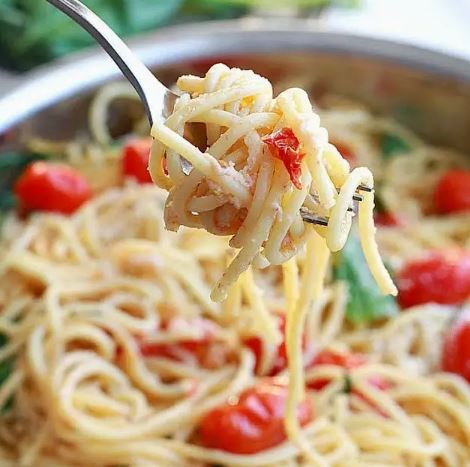 Here at The Pointe, we are not quite ready to say goodbye to summer! We have found this delicious colorful recipe perfect for you to try -- whether you're an avid or amateur cook.
A colorful blend of juicy cherry tomatoes and fresh basil leaves make this easy recipe a must-try. Perfect for busy weeknights or friends coming over to visit, this nutritious makes the perfect dish to savor as is, or add your own artistic flare. We threw in some yummy mushrooms and chicken we grabbed from the Kroger down the street, and it was delicious. Be sure to share your experience with us.
Ingredients:
4 ounces spaghetti ( Noodles of your choice)
3 Cups cherry tomatoes
2 cups baby spinach (roughly chopped)
1 bunch basil ( about ten to twelve leaves, roughly chopped)
4 garlic cloves (thinly sliced)
1 teaspoon dried oregano
½ teaspoon sea salt (or to taste)
½ teaspoon black pepper (or to taste)
¼ cup grated parmesan cheese
1 red chili pepper (seeded, finely chopped)
Olive oil (for frying)
Instructions:
Cook pasta according to package instructions. Prior to draining, reserve ¾ cups of pasta water.
While the pasta is cooking, heat the olive oil in a large frying pan over medium heat.
Add the garlic, and gently sauté for about a minute or two, until the garlic is beginning to color- be careful not to let it burn. Add the tomatoes, oregano, salt and black pepper. Cook tomatoes for about three to four minutes until juices start to burst. Add the chopped chili pepper and cook for another minute or two until slightly softened.
Add the cooked pasta and reserved pasta water little by little until pasta is well coated and desired consistency is reached (about ½ cup). Allow to simmer for about a minute ten add chopped spinach, basil and parmesan cheese. Turn heat to low and gently toss to coat evenly. Add more pasta water if needed.
Recipe from Yummly