Recipes
September Recipe - Pumpkin Cheesecake Bars
September 01, 2020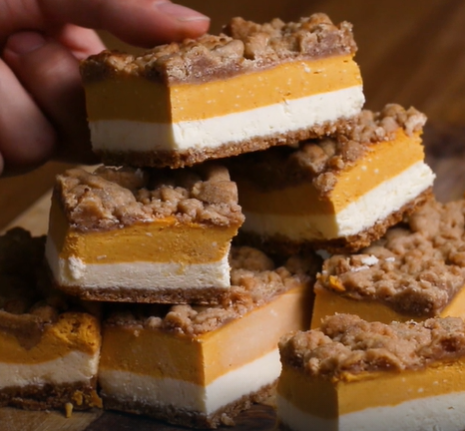 It's that time of year where the smell of pumpkin spice fills the air everywhere you go, and it's no different here at The Pointe at Valley Ranch Town Center! With Back to School and the crisp fall air hopefully making its way to Houston, we have got just the recipe for you to put that designer kitchen to use – from the stainless-steel appliances, to the convenient faucet, large island, and upgraded lighting. Enjoy these layered treats!
Servings: 12 bars
INGREDIENTS:
6 tablespoons butter, melted
10 graham crackers, crushed
32 oz cream cheese, at room temperature
4 eggs
1 teaspoon vanilla
1 ½ cups sugar
15 oz pumpkin puree, 1 can
CRUMBLE TOPPING:
½ cup butter
1 cup flour
½ cup brown sugar
1 tablespoon ground cinnamon
INSTRUCTIONS:
In a medium bowl, combine the melted butter and crushed graham crackers. Stir until the mixture develops a wet sand texture.
Cover the bottom of a greased 9 x13-inch (23x33 cm) baking pan with the graham cracker mixture and spread evenly. Chill.
In a large bowl, combine the cream cheese, eggs, vanilla, and sugar. Stir until mixture is smooth.
Spread half of the cheesecake batter into the chilled baking pan, smoothing the top, and freeze.
Preheat the oven to 325˚F (160˚C).
Add the pumpkin puree to the remaining cheesecake batter and stir until incorporated.
Spoon the pumpkin cheesecake mixture over frozen cheesecake mixture and spread evenly.
Bake for 30 minutes.
Make the crumb topping: in a medium bowl, combine the butter, flour, brown sugar, and cinnamon. Stir until all ingredients are evenly incorporated and the mixture develops a wet sand texture.
Top the cheesecake with the crumble topping and bake for another 25 minutes.
Allow the cheesecake to cool at room temperature. For best results refrigerate overnight once completely cooled, then slice and serve.
Recipe from Tasty.co